Blair Hobgood, Chairman
Road Category 3
Blair began cycling in 2000 and initial began racing fixed gear on the track in Asheville and Atlanta. His racing highlights include winning the 2004 "A" Track Omnium Season Championship in Asheville, NC and most recently the 2011 North Carolina Cat 3 Road Race Championship. He has been with Cardinal Health for 17 years and is currently Vice President of Health Systems responsible for national agreements with healthcare institutions. Blair mostly races in the Masters division and is known for his big draft and strong sprint.
Bill Langston, President
Road Category 4
Cyclocross Category 4
Bill began his racing career in BMX as a eight year old beginner. His palmares include a fifth place at the TN State Qualifier, which stood as the zenith of his racing career for 28 years, until he claimed the top of the podium in a recent Cyclocross race. He has entered a few skinny tire pedaling contests over the years, but devotes much of his racing to the NCCX Series- chasing a top five finish in the Masters category. He is best known for telling other riders/racers, "It's Game On." You may see his long suffering wife and two young boys ringing bells for him this Fall. When Bill isn't training he works for Whirlpool Corporation as a Territory Manager for Residential and Commercial Sales, and lives in Chapel Hill.
Jason Halsey, Vice President
Road Category 3
Jason makes his money as an engineer in Telecommunication Industry. He spends his money on bicycle related stuff, trying to get by on a minimal training load. With the exception of the occasional time trial, Jason has been on a hiatus from racing the past couple years, but might dip his toe back in for 2016. He has accepted his role as pawn and peloton fodder, but hopes to help others in cat-3 or Master races. His relative strength is time trials, but his passion is riding in the mountains.
Notable achievements (in his eyes) include 2nd in the 2011 cat-4 state time trial championships, joining the sub-23min club for Doughnut Boy Time Trial, and a 6-hour Assault on Mt Mitchell (harder than you think, unless your name is Keith or Dan).
His intelligence level at home is only exceeded by his wife's, who is also a beast on a spin bike, and not too shabby on the tennis court.
Eric Schoch, Treasurer
Road Category 4

Eric represented TV and the United States in the Duatlon World Championship in September 2017.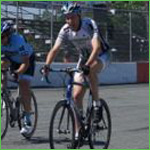 John Boger, Secretary
Road Category 5
John leads the unofficial Triangle Velo Thursday ride, and he even keeps up once in a while.
TEAM MEMBERS
Stedman Ayers
Keith Babo
Road Category 4
Keith began cycling in 2008 when he first moved to Chapel Hill. He has dabbled in racing over the years, and may race more in the future. Known in the local riding scene as "Slow Keith," he takes pride in making everyone else on the team look fast by comparison. When not adorned in Lycra, Keith chills with his wife and daughter and writes software for Red Hat.
Jeffrey Baker
Justin Benson
Steven Blanchard
Adrian Carter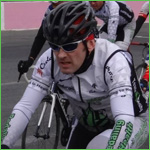 Road Category 3
Adrian has been racing his bike since the Jurassic age and seldom wins. He has spent an inordinate amount of money on bikes, race fees, travel fees to compete, including at a signature event in downtown Boston where he did not embarrass himself or the team ( he also didn't win anything ). If you can't see or don't recognize this Irish native on his "Irish" bike courtesy of IrishCycles, just listen carefully for a few moments and follow the lilting brogue laced with expletives. When not racing or training, he focuses on less expletive laced residential construction operating as A.M.Carter Construction Inc., www.irishadrian.com.
Sandy Cash
Road Category 4
Sandy isn't the youngest guy on the team, but his looks could fool you. With his helmet and glasses on, he can easily pass for 17. So far, he hasn't been required to do juniors roll out.
James Gallagher
Road Category 3
Track Category 3
James Gallagher owns several bikes, and sometimes, he actually rides them on the road. Gallagher spends most of his time riding the rollers in his garage and watching whatever is available on Netflix, Amazon, or HBO Go…. (Did you know Jason Statham tried some dramatic roles – they are not good.) He's recently taken up track racing as an excuse to purchase another bike and gear, and maybe some day he will pay off his PayPal credit account.
Mandy Gallagher
Road Category 4
Coach Mandy lives in Durham, but she spends about half her time in Banner Elk, NC, where she serves as an assistant coach for the Lees McRae Cycling Team. She is a certified personal trainer and USAC level 2 cycling coach. In addition, she serves on the Carolinas Cycling Association Women's Development Committee and previously served as a Specialized Women's ambassador. Mandy enjoys road riding and her favorite competitive cycling events are criteriums, though she has dabbled in cyclocross. She looks forward to continuing to get more women out on their bikes and enjoying cycling as much as she does!
Simon George
Road Category 5
Keith Gerarden

Road Category 1
Cross Category 1
After a lengthy injury-induced hiatus during which Keith was forced to turn to running to stay in shape, he is hoping for a successful return to the local peloton this year. Injury-related challenges have broadened his awareness of life outside of bike riding (you mean there is such a thing?). He has, however, remained involved with the cycling scene by continuing to promote races and other events, serving on the board of Triangle Velo, and serving as the faculty advisor to the UNC-Chapel Hill Cycling Club, as well as managing the Chapel Hill Cycling email distribution group. When he's not on his bike, he enjoys hiking, running (kind of!), and pretty much all other outdoor pursuits that he has found so far. On weekdays, you'll find him working to provide computing resources for personnel in the UNC-Chapel Hill Department of Medicine.
Amy Henes
Alyssa Heydorn
Greg Hohn
Road Category 4
Greg Hohn (Cat 4, Road) has been cycling since he was a kid and finally started racing in 2014 at age 51. He expects to peak in another 51 years. Greg leads a regular Saturday ride out of Wilson Park in Carrboro. He has taught Applied Improv at UNC's business school since 2000 and has been a member of Transactors Improv Co. since 1989, as well as having done some modeling in the past.
Craig Hurt
Road Category 5
Who is Craig Hurt? Does he really exist? No one knows for sure. Like most mythical creatures – Sasquatch, Yeti, the Loch Ness Monster – sightings of this elusive cyclist are rare. And those reports come from characters of dubious distinction: the kind of people who challenge 11 year olds to games of NFL Blitz. Still, rumors persist that Craig can be found hiding among the stationary bikes of the haunted spin class.
Dan Johnson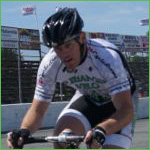 Road Category 4
Dan has been cycling since 2005 and racing competitively since 2008. Dan has no race results to speak of and is best known for his poor race tactics and underachieving, except when racing Langston up a mountain. Dan is the proud father of two little girls. He has worked for Applied Medical Systems for the past 15 years.
Peter Leousis
Road Category 2/Racing Age 62
Peter began bike racing when he was 45, and his passions are road racing and time trials. His favorite races are the Rock Hill Road Race, the Tour de Moore, the French Broad Omnium and just about any time trial. He really likes to go fast. Most of all, he enjoys the simple pleasure of riding his bike wherever the roads lead him.
Bill Marcheck
Road Category 4
Phil May
Alan Metz
Michael Murray
Dan Okoniewski
Sarah Palestine
Ryan Patterson
Doug Rocket
David Rose
John Rubin
Alan San Filippo
Road Category 4
Cyclocross Category 4
Alan moved to Carrboro in 2015 from upstate New York and has yet to stop sweating. He started cycling competitively in 2013 to improve his health and one day hopes to have a result. He mainly focuses on cyclocross but races on the road as well. When not riding, he's busy doing research and playing with blood in the clinical labs at UNC Hospital.
Jan Schreur

Sarah Sherman
Paul Smith
After Guido told all he knew to the feds, taking down most of the Gambetti family, he was ushered into the witness protection program knowing he could never return to his new life. With extensive plastic surgery and vocal training, Guido became Paul Smith. Affecting a somewhat unconvincing English accent and needing to lose weight to become less conspicuous, Paul "Guido" Smith took to cycling. Refusing to race since it would expose him to potential scrutiny, he keeps to the margins, showing up on group rides while afterwards gorging on pasta and cannolis.
Jon Speer
Road Category 1
Jon, one of Triangle Velo's founders, now resides among the mountains of Vermont. Like most mountain men, he grew a beard. He doesn't spend as much time on his bicycle as he used to. Rather, he spends his days trying to dig out of the snow and survive the sub-zero temperatures.
John Strong
Road Category 4
Fred Stutzman
Alyson West
Leslie Wolcott
Team Pictures